❤️ The inside story ❤️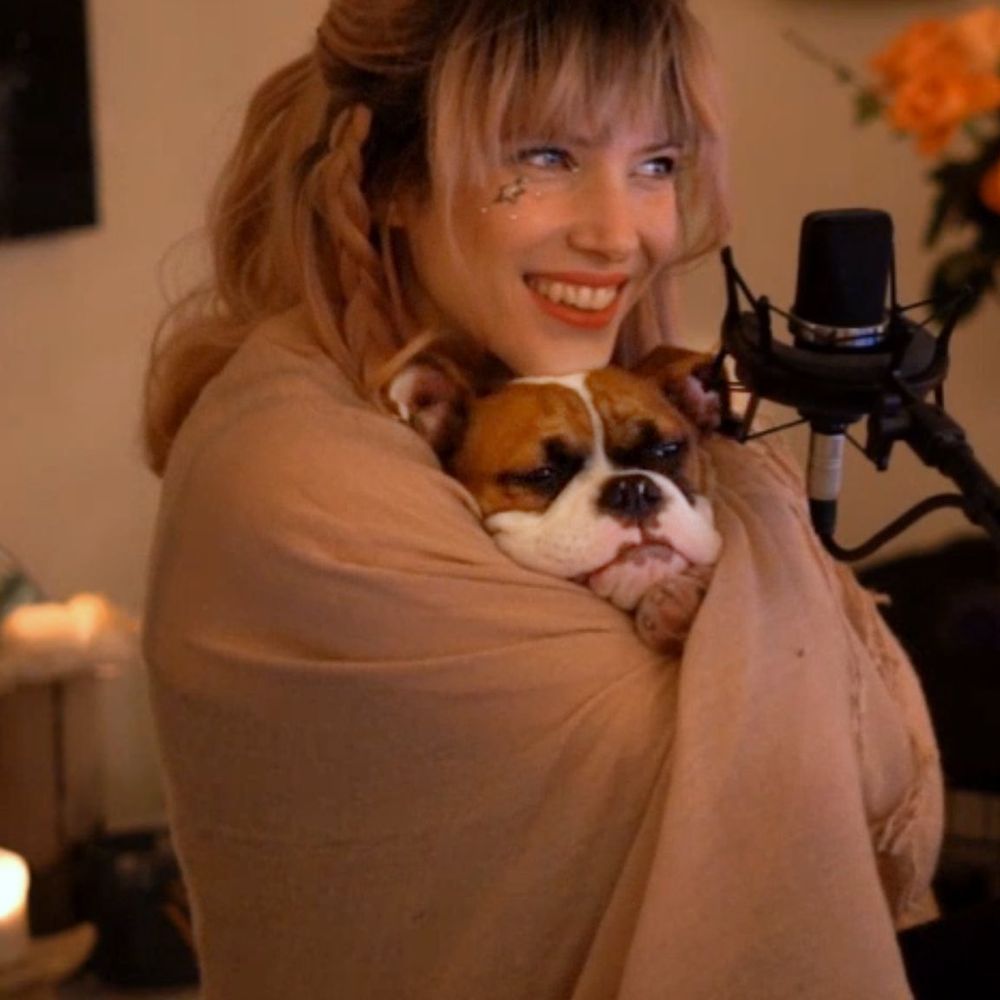 Some stuff about me
But first a personal invitation
❤️Hello beloved human beans! I'm Venus, a singer songwriter, musician and recording artist who loves to boulder !! I'm from near London and I write and perform a mixture of haunting and emotion-packed cinematic indie folk pop originals and cover songs, releasing regular new music. You can find me performing  LIVE from my studio in my tri-weekly 'VenusWorld' stream show on Twitch. So if you really want to know what I'm about, come and say hello and meet my  amazing community who will give you the warmest of warm welcomes ! 
And if you want to read the article about me as a streaming musician that national newspaper 'The Sun' published, then click here.
And probably most importantly, here's a picture of me and my Old Tyme English Bulldog, 'David Bowie'.
And now the bit I don't write!❤️
-----------------------------------------------------------------------------------------
BIOGRAPHY
'Venus is a powerhouse vocalist with a penchant for the theatrical and cinematic'    (Evensound)
5 years ago, Venus and her production team took the brave decision to take the road less travelled with her music career. They decided to explore the brave new world of live streaming, driven by the desire to offer studio/concert quality live performances straight into the homes of music lovers.
Venus was already building significant momentum for her emotion packed performances of originals and covers and music video quality production when the pandemic hit. With live gigs halted over night, Venus's decision to offer something different to the live music loving market made even more sense and she found herself amongst a small group of established streamers, leading a charge of musicians who were providing desperately needed live entertainment to home-bound audiences across the globe. 
Twitch, originally a gaming platform owned by Amazon and with millions of users, saw Venus's audio/visual appeal and started to feature her alongside the top gamers on their front page. Subscribers, followers and income increased at a rapid rate. In five years Venus has become one of the biggest musicians on the platform (VenusWorld on Twitch), has performed live for over 2,000 hours, gained 70,000 followers, and clocked up over 50M minutes of viewed performances. Venus currently performs 3 times per week attracting audiences ranging from 500 to several thousand and she must be one of the hardest working live musicians around.
Venus has recently taken to tiktok where in just a few months she has amassed over 2.5M views and rapidly built a following of over 45k followers. 
Venus's debut album as Venus (she previously had an album out under her former name Sophie Janes- see below) was 'VENUSWORLD' released in 2021. See press release below for more details. 
Venus was previously known as Sophie Janes with her debut album being The Fog, which has become a firm favourite on the stream. 
Fun Venus facts: her debut gig was London's Earls Court, swiftly followed by Balham's iconic 'The Bedford Arms' where artists such as Ed Sheeran, U2 and The Clash have given early career performances; Venus's debut album "The Fog" was mastered in London's legendary Abbey Road Studios by Alex Wharton who has also worked on releases for The Beatles, Aurora, The Chemical Brothers and Mumford and Sons  and the title track was featured in SKY TV's Formula 1 coverage; Stream visitors have included DeadMau5 who asked Venus live on stream to collaborate and Youtube's very own Mr Beast who donated £1100 in one visit because Venus blinked 11 times in one minute while performing!
You can find all the links to Venus's music on this site so do please come and join the growing band of Venusians!