❤️ The inside story ❤️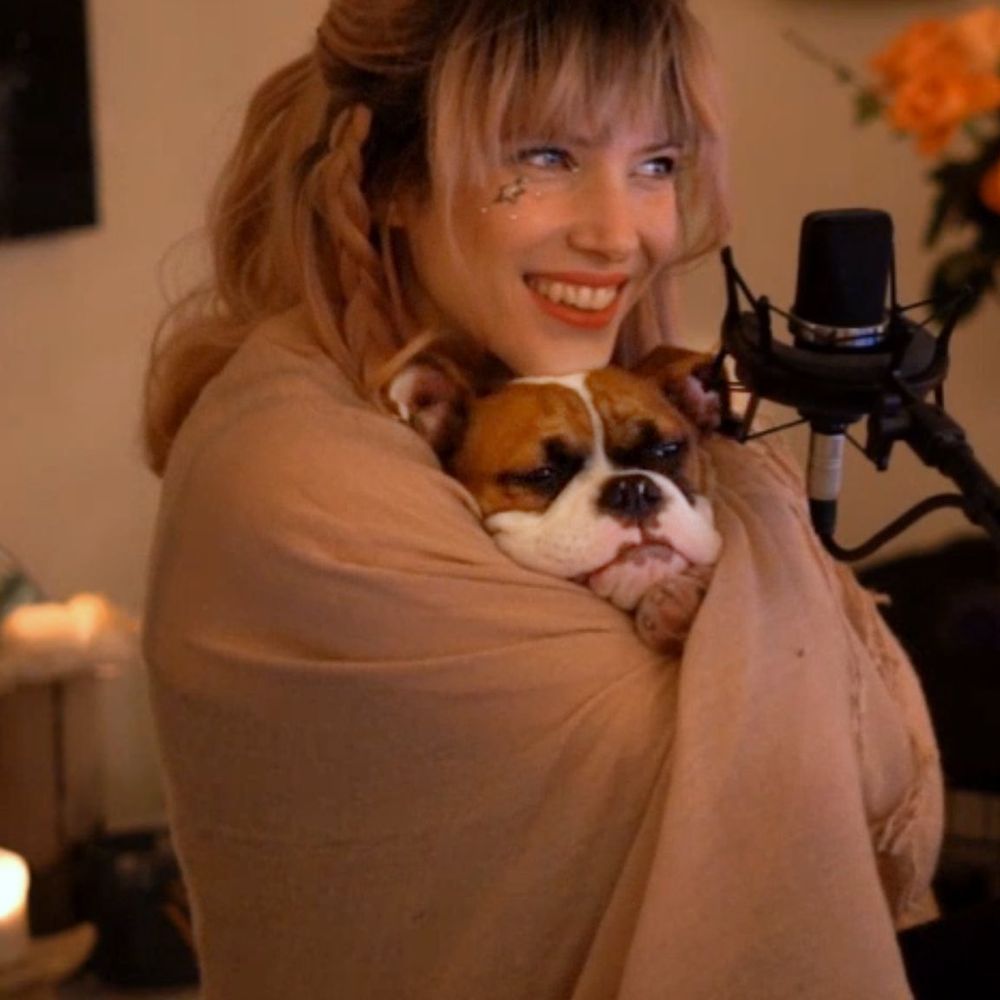 Some stuff about me
But first a personal invitation
❤️Hello beloved human beans! I'm Venus, a singer songwriter, musician and recording artist who loves to boulder !! I'm from near London and I write and perform a mixture of haunting and emotion-packed cinematic indie folk pop originals and cover songs, releasing regular new music. You can find me performing  LIVE from my studio in my tri-weekly 'VenusWorld' stream show on Twitch. So if you really want to know what I'm about, come and say hello and meet my  amazing community who will give you the warmest of warm welcomes ! 
And if you want to read the article about me as a streaming musician that national newspaper 'The Sun' published, then click here.
And probably most importantly, here's a picture of me and my Old Tyme English Bulldog, 'David Bowie'.
And now the bit I don't write!❤️
-----------------------------------------------------------------------------------------
BIOGRAPHY
'Venus is a powerhouse vocalist with a penchant for the theatrical and cinematic'    (Evensound)
Having taken the decision to relaunch under a new artist name in early 2018, UK singer-songwriter Venus has rapidly established herself as a full-time live streaming artist whose regular 'VenusWorld' shows are now bringing a global tribe together in an environment of emotional, piano-based music performance and uplifting community vibes.
Venus's debut album as Venus (she previously had an album out under her former name Sophie Janes- see below) is 'VENUSWORLD' and is released on Friday 26th February 2021. See press release below for more details. 
The latest release from that album is  'Swathe of Stars', which landed on January 8th 2021. 'Swathe of Stars' is a love song that captures the electricity felt when meeting that special person for the first time. This will be followed by the release of her next album - an album that has been over two years in the making.
The most recent cut was  'Her', the story of a man who has a secret second life and a bravely intimate song about the challenge many people are faced with when wanting to express their unique self in a world that is not always tolerant. The Youtube Video even features members of her Twitch community! 
Other recent releases include  'Fuck It I Miss You' - a fearlessly honest tune that will have many people, who have been through similar experiences, nodding in agreement and reaching for the tissues.  'Sea Songs Trilogy', a timeless fairytale set to music and 'Feels:Covers Volume 1",  a stripped back album of some of the most popular covers from her Twitch show including songs such as Space Oddity, Creep, Can't Help Falling in Love and Zombie. All Venus's new releases are debuted first to her Twitch community.
A committed performer and musician, Venus has played over 450 'gigs' since launching on Twitch in 2018, totalling over 1000 performance hours, and building a set of over 300 songs, including many originals. Her first release, the infectious and uplifting pop-dance single A Million Voices, is a song about the fear of someone else succeeding and has become her Twitch 'anthem'. Her last release Before You Go tells the story of star-crossed lovers and is a piano/guitar/strings based ballad which has become the traditional closing song on her show. Venus is hard at work on a new originals album and the next next covers album.
Venus was previously known as Sophie Janes with her debut album being The Fog, which has become a firm favourite on the stream. 
Fun Venus facts: her debut gig was London's Earls Court, swiftly followed by Balham's iconic 'The Bedford Arms' where artists such as Ed Sheeran, U2 and The Clash have given early career performances; Venus's debut album "The Fog" was mastered in London's legendary Abbey Road Studios by Alex Wharton who has also worked on releases for The Beatles, Aurora, The Chemical Brothers and Mumford and Sons  and the title track was featured in SKY TV's Formula 1 coverage; Stream visitors have included DeadMau5 who asked Venus live on stream to collaborate and Youtube's very own Mr Beast who donated £1100 in one visit because Venus blinked 11 times in one minute while performing!
You can find all the links to Venus's music on this site so do please come and join the growing band of Venusians!